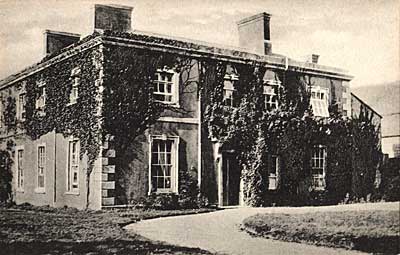 The rectory was a rather grand building which was easily big enough to accommodate an average-sized Victorian family. Canon Christopher Wordsworth spent many years here although one of the last rectors to serve the parish was Reverend Friend who is pictured here.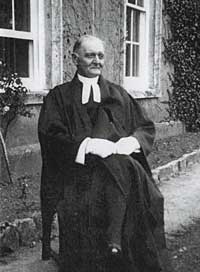 "The living was reckoned a good one but required a rector with some private income of his own. The Wordsworth budget would not run to carriage or trap, so Mrs Wordsworth regularly walked the dozen miles to Wareham and back for household shopping, as did all the Tyneham housewives, returning with perambulators heaped with merchandise on top of their babies. We hear so much of the lower standard of living "before the wars", but in spite of it the country people must have been a good deal hardier and stronger than their grandchildren." Lillian Bond 1956
As you can see from the photo, the rectory roof was built at a very shallow pitch. In fact, it was far too shallow. This resulted in rain pouring into the house whenever there was a big storm.
Hundreds of pounds were spent on repairs, which was a lot of money in those days. However, the repairs provided no real lasting improvement.
After each time the roof was repaired, the cry would go up that the roof had sprung another new leak. Apart from the leaky roof, the Tyneham rectory was a fine building. Attached to it was a rather large conservatory which housed many exotic plants and peach trees. There was also a tennis court in the grounds.
Long after the evacuation of Tyneham during the 1960s, the rectory caught fire. One of the farmers who were allowed to work in the valley had actually been storing hay and straw inside the rectory. Somehow it caught fire and the fire engines had to be called from Wareham. The damage to the building was quite severe.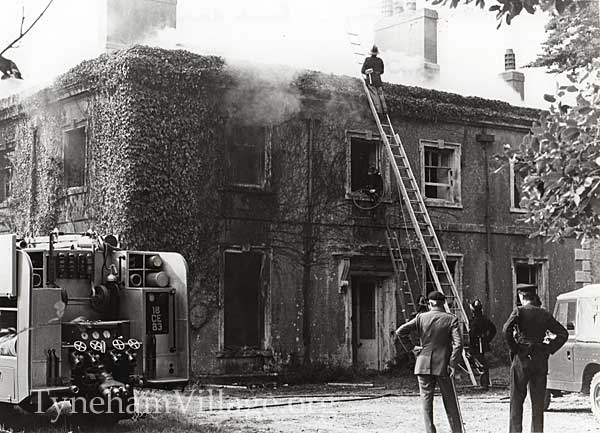 Wareham Fire Brigade Extinguishing the Fire at Tyneham Rectory
Today the rectory is still standing although in rather a poor state. It's still possible to go inside the rooms and walk around. However, some of the rooms at the rear have been cordoned off as they are in danger of collapsing.