Durdle Door
Durdle Door is a 7.5-mile drive from Tyneham village. Alternatively, you can take the coastal walk which is roughly a mile shorter in distance but you get to take in the sights along one of Dorset's most iconic stretches of coastline. Walking to Durdle Door from Tyneham will take you about 3 hours if you don't stop anywhere along the way.
What is Durdle Door?
Durdle Door is a natural limestone arch located on the Jurassic Coast of Dorset in southern England. This iconic landmark is renowned for its breathtaking beauty and geological significance, drawing visitors from all over the world.
The arch itself is a magnificent creation of nature, sculpted over thousands of years by the relentless erosive forces of the sea. Composed of Portland limestone, the same type of stone used in the construction of London's St. Paul's Cathedral, Durdle Door stands as a testament to the power of natural processes in shaping our planet's landscapes.
Below the arch lies Durdle Door Beach, a picturesque pebble beach, also known as Durdle Door Cove. This beach is a popular destination for visitors, offering opportunities for swimming, sunbathing, and admiring the coastal scenery. The crystal-clear waters and dramatic backdrop of the arch make it an enchanting spot for beachgoers and photographers alike.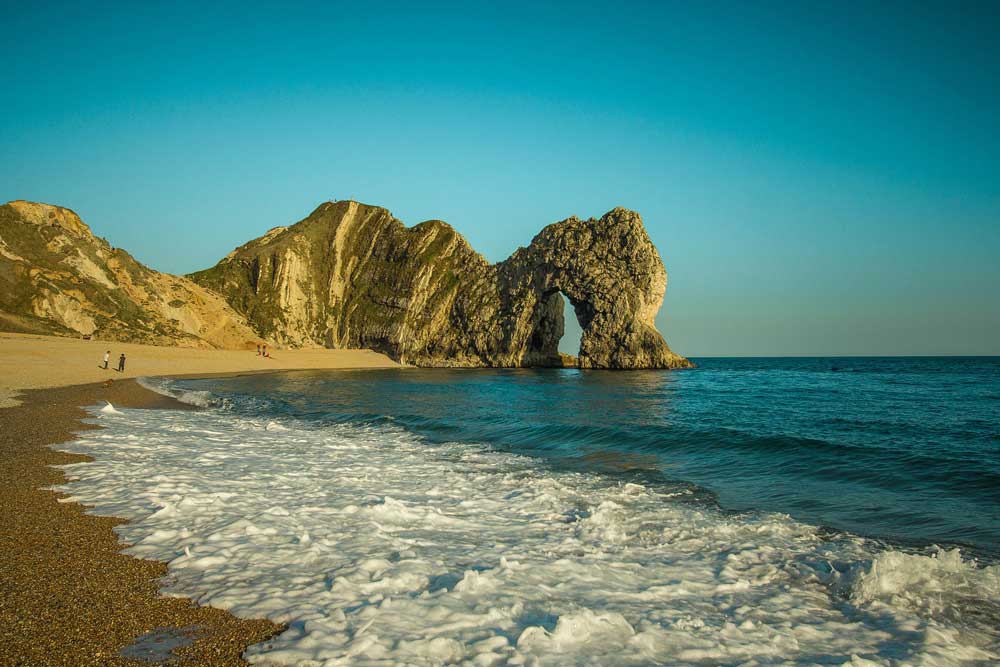 Durdle Door Directions to Get Here
Durdle Door is situated in the lovely village of West Lulworth. Head for the A352 which will then lead you to the B3070 where Durdle Door is located. It's very well signposted so you shouldn't have a problem finding it. The Durdle Door Postcode is BH20 5PU. If you put that in your SatNav it will get you here.
Alternatively, the walk from Tyneham via Worbarrow Bay and Lulworth Cove is shown below.

Facilities and Parking at Durdle Door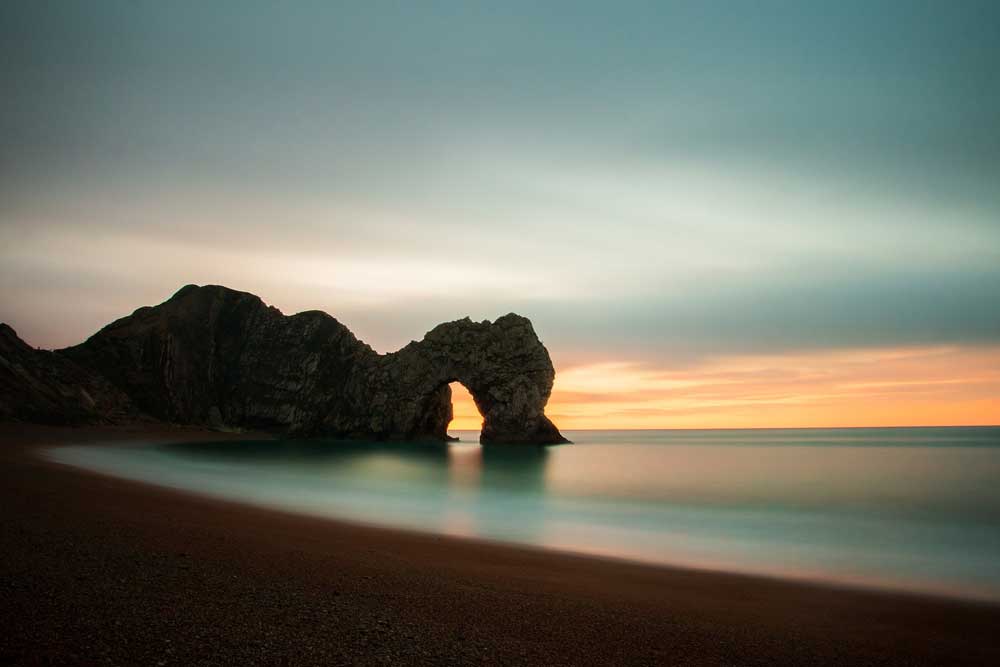 There is a lot of parking for Durdle Door and just like in Lulworth Cove, it can be quite expensive. The car park is at the top of the cliff so you'll still have a long walk ahead of you ahead of you down many steps. If you have any problems with your knees or legs you won't be able to make the long walk down although you will still be able to see the famous stone arch from the car park. Entrance to the beach is free of charge.
Note, that there is no beach parking. Swimming is allowed but there are no lifeguards so please be careful.
The walk down to the beach from the car park is roughly half a mile. This is a long steep path downhill and then a further 150 steep steps down onto the beach. It is definitely a trek so be prepared!
At the car park, you will find some public toilets and there is usually a catering unit selling snacks and drinks. Down on the beach though you will find no facilities whatsoever.
It can get extremely busy here so try and come on a quieter day if possible. When it gets too overcrowded police will prevent access to the whole area including Lulworth Cove and Durdle Door. Fortunately, this doesn't happen too often.
Durdle Door Accommodation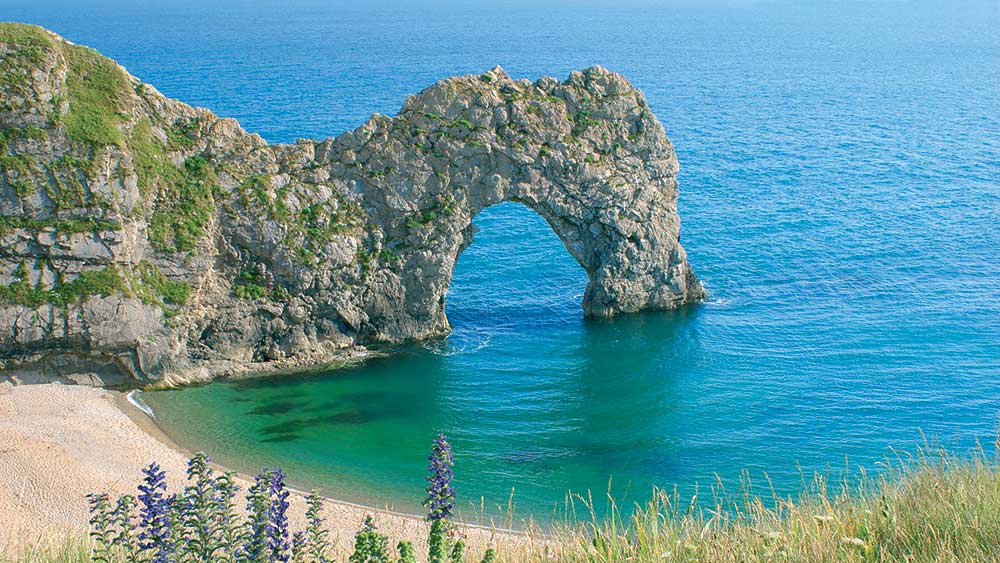 Accommodation near Durdle Door can vary, offering choices for different preferences and budgets. The most common places to find accommodation nearby include nearby villages and towns. Here are some accommodation options in the vicinity:
Lulworth Cove: Lulworth Cove is one of the closest villages and offers various accommodation options, including guesthouses, bed and breakfasts, and self-catering cottages. Staying here puts you in proximity to both Durdle Door and Lulworth Cove, making it a convenient choice for exploring the area.
West Lulworth: This village is also very close by and offers a range of accommodations, including inns, guesthouses, and holiday cottages. It's a charming and picturesque location for those who want to be near the natural beauty of Durdle Door.
Wareham: Located a bit farther inland, Wareham offers a wider range of accommodation options, including hotels, bed and breakfasts, and holiday parks. It's a suitable choice if you prefer a larger town with more amenities while still being within a reasonable driving distance.
Swanage: This coastal town is a bit farther away but offers a broader selection of accommodations, from hotels and inns to holiday apartments and campgrounds. It's a good option if you're looking for a seaside experience and don't mind a short drive.
Camping and Caravan Sites: If you prefer a more rustic experience, there are several caravan and campsites near Durdle Door, some of which may offer facilities for tents, campervans, and caravans. These can be an excellent choice for nature enthusiasts.
Holiday Rentals: Vacation rental platforms like Airbnb and VRBO often list properties in the Lulworth Cove area. You can find cottages, apartments, and houses available for short-term rentals, which can be ideal for families or larger groups.
When planning your stay near Durdle Door, it's advisable to book your accommodation in advance, especially during peak tourist seasons, to ensure availability. Keep in mind that this is a popular destination, so accommodations tend to fill up quickly during the summer months and holiday periods.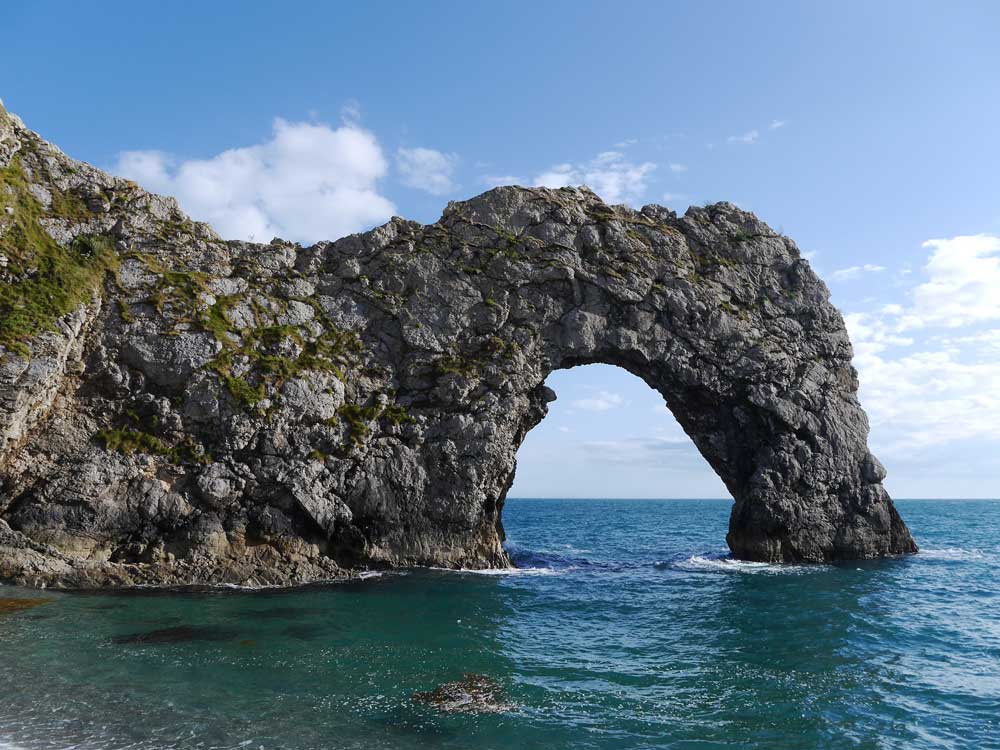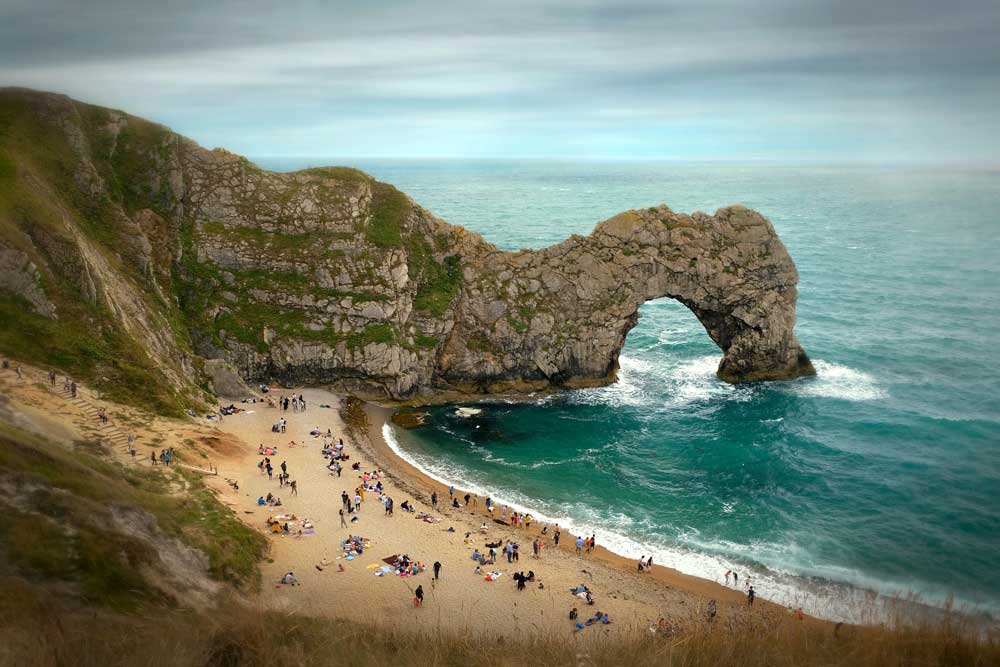 FAQ
How was Durdle Door formed?
Durdle Door was formed over millions of years through erosion. The arch is made of hard limestone while the surrounding rock is softer. The constant action of the sea eroded the softer rock, leaving behind the distinctive arch.
Is there an entrance fee to visit?
There is typically no entrance fee to access Durdle Door or the public beach below the arch. However, there may be parking fees if you use the nearby parking facilities.
Can I swim at Durdle Door Beach?
Yes, swimming is allowed at Durdle Door Beach, but be cautious of tides and currents. There are no lifeguards on duty, so take care when swimming.
Are there any nearby attractions to visit along the Jurassic Coast?
Yes, the Jurassic Coast is home to numerous attractions and beautiful coastal towns. Nearby places of interest include Lulworth Cove, Portland Bill, Chesil Beach and of course, Tyneham and Worbarrow Bay.
Can I take my dog to Durdle Door?
Dogs are allowed at Durdle Door, but it's important to keep them on a lead and clean up after them. Be aware that during the summer months, there may be restrictions on dogs in certain areas.
Are there facilities like restrooms and cafes nearby?
There are public restrooms and a cafe near the Durdle Door car park. However, it's a good idea to bring some refreshments with you, especially if you plan on spending an extended period at the beach.
What's the best time to visit Durdle Door?
Durdle Door is popular year-round, but it can get crowded during the summer months. Consider visiting during the shoulder seasons (spring or early autumn) to avoid crowds and enjoy pleasant weather.
Is Durdle Door accessible for people with mobility issues?
While there is a car park near Durdle Door, the path down to the beach can be steep and challenging for those with mobility issues. There may be limited accessibility options, so it's best to check in advance.
Are there guided tours available?
Some local tour companies offer guided tours of the Jurassic Coast, which may include stops at Durdle Door. You can inquire about these tours in nearby towns and villages.
What is the history of the name "Durdle Door"?
The name "Durdle Door" is believed to have evolved from the Old English word "thirl," which means "hole" or "aperture," and the word "door," which is a West Country term for an arch or gate. Thus, "Durdle Door" refers to the natural arch's appearance as a hole or gateway in the cliffs.
Are there any safety precautions I should be aware of when visiting Durdle Door?
Be cautious of steep cliffs and keep a safe distance from the edge. The cliffs can be unstable, so avoid climbing or standing near the edges. Additionally, pay attention to safety signage and warnings about tide times.
Can I have a picnic at Durdle Door?
Yes, picnicking is allowed at Durdle Door, and there are picnic areas near the car park. Please be sure to clean up after yourself and dispose of trash properly.
Is camping allowed at Durdle Door Beach or nearby?
Camping on the beach itself is not allowed, but there are nearby campgrounds and caravan sites where you can stay. Some popular options include Durdle Door Holiday Park and Lulworth Cove Camping and Caravanning Club Site.
What are the best photographic spots?
Some of the best photographic viewpoints of Durdle Door can be found from the cliffs above and along the coastal path. Sunrise and sunset are often recommended times for photography due to the stunning lighting.
Are there any restrictions on drone flying at Durdle Door?
Drone flying may be restricted in the area due to safety and conservation concerns. It's essential to check local regulations and obtain any necessary permits before flying a drone.
What is the geology of Durdle Door and the Jurassic Coast?
The geology of Durdle Door and the Jurassic Coast is characterized by layers of different rock types, including limestone and shale. The constant erosion and weathering have created unique geological formations and exposed fossils dating back millions of years.
Can I visit During the winter months?
Yes, Durdle Door can be visited year-round. While the summer months are the most popular, visiting in winter offers a quieter experience, and you can still enjoy the natural beauty of the area, although it may be colder and less crowded.

Please Treat Durdle Door With Respect
For such a beautiful place it really sad to see how it has been treated by tourists during the busy summer period. The amount of rubbish that was left on the beach over the busy weekends was absolutely heartbreaking.
Please don't be part of the problem and if you see anyone littering please advise them of the location of the nearest bin or even better, ask them to take their litter home with them.
Teams of volunteers spent hours clearing up rubbish left by visitors.